Aid groups warn that forcing hundreds of thousands of refugees out would create instability and a humanitarian disaster.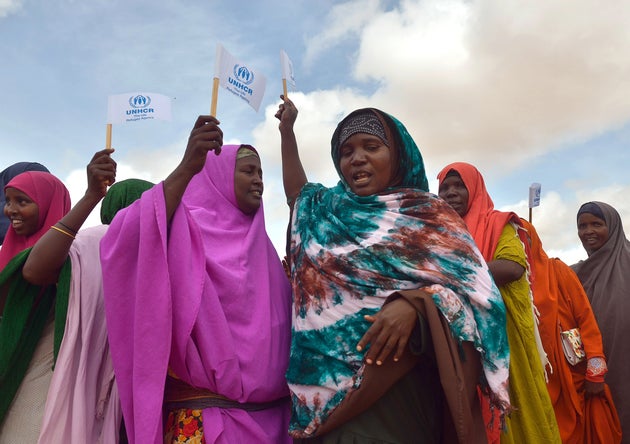 TONY KARUMBA VIA GETTY IMAGES
When Kenya threatened last Friday to shut down the largest refugee camp in the world and rid the country of over half a million refugees, many people initially questioned whether it was serious.
The practicalities just didn't make sense. Over 350,000 people live in Dadaab, a network of camps in Kenya's northeastern desert, and around 150,000 more live in Kenya's second refugee camp, Kakuma.
It would take a huge amount of money and manpower to dismantle the thousands of tents, huts and buildings in Dadaab, which today include shops and cinemas, churches and mosques. Even more difficult is the prospect of forcibly uprooting hundreds of thousands of people, some of whom have spent their whole lives in the camps.
"Actually closing Dadaab and Kakuma refugee camps would be like wiping two large cities off the face of the earth," said Mark Yarnell, senior advocate at Washington, D.C.-based Refugees International.
"Moving ahead with a forced shutdown of the camps would create a humanitarian disaster of massive proportions," he told The WorldPost.
Kenya has threatened to shut down refugee camps in the country twice before in recent years before backtracking. Yet refugees, aid agencies and the United Nations are now grappling with the possibility that the government might actually follow through this time.
The first sign was when Kenya dissolved its Department of Refugee Affairs overnight. Then, it formed a task force on Wednesday to manage the closure of Dadaab (without mentioning Kakuma or other refugees in the country), and said it was putting $10 million toward the effort. A Kenyan interior ministry official said the first group of refugees would leave Dadaab by November, and the camp would be fully closed by next May.
Even so, experts say Kenya's plan still doesn't add up.
They were highly skeptical of the government's claim that refugees would leave voluntarily. "It is difficult to imagine hundreds of thousands of refugees leaving in a short time and in conditions of a voluntary nature," said Duke Mwancha, a U.N. refugee agency spokesman in Kenya. He said the U.N. agency would not take part in any forced return operation, which is illegal under international law.
Then there's the question of where the refugees will go. Most of Dadaab's residents are from neighboring Somalia, a country with a fragile government and frequent attacks by Islamist militant group al-Shabaab. While Kenya says Somalia is now safe, many Somalis fear returning. If forced back to the country, they could easily just slip back over the porous border into Kenya.
Kenyan officials said some refugees could be moved to other, safer countries, but it wasn't clear which countries would accept them; Kenya's neighbors already have large refugee populations.
Since the camp was established following Somalia's 1991 civil war, a whole generation of has grown up in the camp. "Dadaab is the only home we know," Somali refugee Hassan wrote in Kenyan newspaper the Daily Nation this week. The closure announcement "has left many like me wondering whether we will now be truly homeless."
Kenya says it is necessary to close Dadaab refugee camp because it has been infiltrated by al-Shabaab, which has waged deadly attacks inside Kenya and poses a security threat to the country. Refugee advocates say these claims are overblown for political reasons, and closing the camp could actually have the reverse effect on regional stability.
"Kenya says their goal is to increase security, but to force hundreds of thousands of people into an insecure area would only create insecurity," Yarnell told The WorldPost.
Somalia on Thursday warned Kenya against sending refugees back over the border. "The move will make the threat of terrorism worse, not better, given the volatile situation this decision and the proposed subsequent actions will cause," astatement from the Somali foreign ministry said.
Some analysts suspect that Kenya is manufacturing a crisis over refugees to send a message to the international community that it needs to step up funding for refugees, and to accelerate official procedures to resettle them elsewhere.
Refugee experts acknowledge these concerns are valid. While world attention has been consumed with the refugee crisis on Europe's borders, the vast majority of refugees live in developing nations like Kenya. Dadaab is overcrowded, underfunded, and has faced frequent food ration cuts.
"This is what happens when the West does not exercise global leadership [over refugees]," said Ben Rawlence, the author of the book City Of Thorns, which tells the stories of refugees in Dadaab. "We can't expect countries to help refugees when we're not doing our share."
Kenyan officials have pointed to Europe's hypocrisy over the global refugee crisis in statements about the closure of Dadaab.
"There has been a fall-off in the voluntary international funding for the camps in Kenya, in favour of raising budgets in the northern hemisphere to refugees headed to the West," Kenya's Principal Secretary for the Interior wrote in an editorial defending the policy this week. "International obligations in Africa should not be done on the cheap; the world continues to learn the ruinous effect of these persistent double standards."
Further, Europe's reaction to the refugee crisis, especially the recent deal to stop refugees leaving Turkey in exchange for refugee aid, sets a cynical precedent that Kenya is following, refugee advocates say.
"This is happening in a global context where refugees have become trading chips in political negotiations," Yarnell said. "When Turkey gets paid $6 billion to stem the flow of refugees from their country, it becomes more difficult for international actors to say this is inappropriate."
Doctors Without Borders on Friday urged Kenya to fight the West's double-standards by setting a good example to Europe. "Rather than endorsing the broken and inhumane policies of the EU and others, now, more than ever, is the time for Kenya to embrace and continue its tradition of providing refuge," the medical aid group said in a statement.
There may be other political factors behind the timing of the announcement. Kenya contributes some 3,500 troops to the African Union force in Somalia, which needs its mandate renewed by the U.N. by the end of the month.
Additionally, Kenya's president Uhuru Kenyatta kicked off his campaign for re-election in 2017 the week before the announcement. "By scoring political points through blaming refugees, [Kenya's politicians] are taking a page out of Donald Trump's playbook," Yarnell said.
Human rights groups are concerned that Kenyan politicians' statements this week linking the camps to terrorism will bring a backlash against refugees. "This has increased the negative and xenophobic attitude against Somali refugees," said Victor Nyamori, Amnesty International's refugee officer in Kenya. "Refugees should not be used as a scapegoat for security challenges."
They also fear the police will exploit the threat of expulsion to step up arrests of refugees and demands for bribes to avoid arrest, as had happened in the past, after terror attacks or government warnings about refugees. Community leaders have already reported increased police harassment of refugees since last Friday's announcement, particularly in urban areas like Nairobi's Eastleigh neighborhood, Nyamori said.
"The mere statement [of closing refugee camps] gives blanket cover for security forces to commit extortion against refugees," Yarnell said. "Somalis are targeted by police for extortion, especially in Eastleigh, because they are vulnerable — they are even referred to as human ATMs by the police."
The government's move to close the Department of Refugee Affairs has also taken a toll on refugees in Kenya. They depended on the bureau to get permits to move around the country, including for medical treatment. Doctors Without Borders said at least four of its patients in Dabaab had been waiting for emergency referrals since last week. The department was also responsible for registering new refugees arriving in Kenya, and around 2,000 people who fled South Sudan were already unable to register this week, the Wall Street Journal reported.
"This is unbelievable…everyone is just stunned and really sad," Abdullahi Aden Hassan, a spokesman of refugees in Dadaab, told The Guardian. "There is still war going on in so many parts of Somalia. It is simply too dangerous to return at this time."